Cinéma sous les étoiles – Movies Under the Stars 2023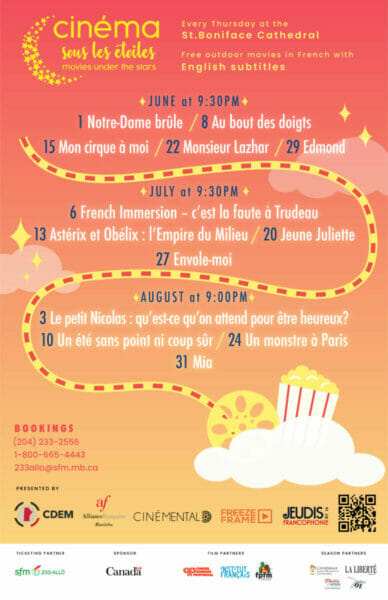 For a fifth year in a row, the Conseil de développement économique des municipalités bilingues du Manitoba (CDEM), in partnership with Cinémental and the Alliance Française du Manitoba, presents Cinéma sous les étoiles (Movies Under the Stars). Cinéma sous les étoiles offers Manitoba audiences free outdoor screenings of French-language films with English subtitles, this year from June 1 to August 31. We are grateful for the support of our partners, without whose help the event could not take place: the St. Boniface Cathedral, la Société de la Francophonie Manitobaine, L'Institut français, La Liberté and Envol 91 FM, and Heritage Canada funding support.
FREE OUTDOOR MOVIE SCREENINGS
Every Thursday
at the St. Boniface Cathedral
180, de la Cathedrale Avenue
Reservations are recommended with 233-ALLÔ, please call or email to reserve your spot:
☎️204-233-2556 | 1-800-665-4443
📧233allo@sfm.mb.ca
Don't forget to bring your chair!
June 1 at 9:30 PM
Notre-Dame brûle
De Jean-Jacques Annaud 
108 mn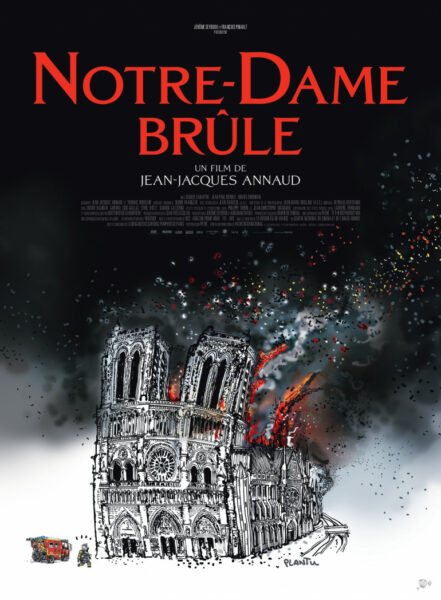 Synopsis
What happened on April 15, 2019? What happened to the Paris Notre-Dame cathedral? Film director Jean-Jacques Annaud has re-created precisely, hour by hour, the evolution of the historical fire, showing how men and women risk their lives to save the national monument. 
June 8 at 9:30 PM
Au bout des doigts
De Ludovic Bernard et Johanne Bernard 
107 mn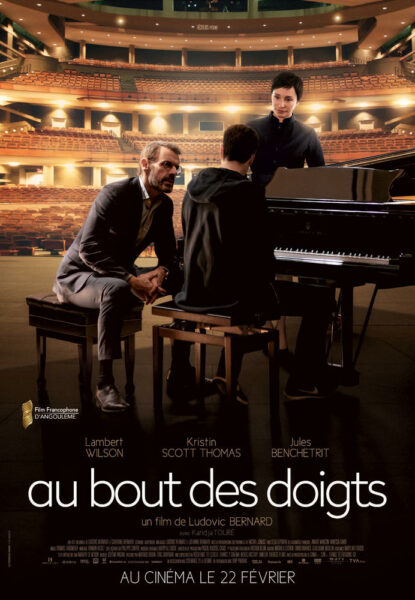 Synopsis
Music is Mathieu Malinski's secret, a subject he does not dare to talk about in his suburbs where he hangs out with his friends. While one of the small burglaries he makes with them leads him to the doors of the prison, Pierre Geitner, director of the Conservatoire National Supérieur de Musique takes him out in exchange for hours of general interest. But Pierre has a completely different idea in mind… He detected in Mathieu a future great pianist whom he entered in the national piano competition. Mathieu enters a new world whose codes he does not know, follows the courses of the intransigent "Countess" and meets Anna with whom he falls in love. To succeed in this contest for which everyone plays their destiny, Mathieu, Pierre and the Countess will have to learn to overcome their prejudices… 
June 15 at 9:30 PM
Mon cirque à moi
De Myriam Bouchard 
100 mn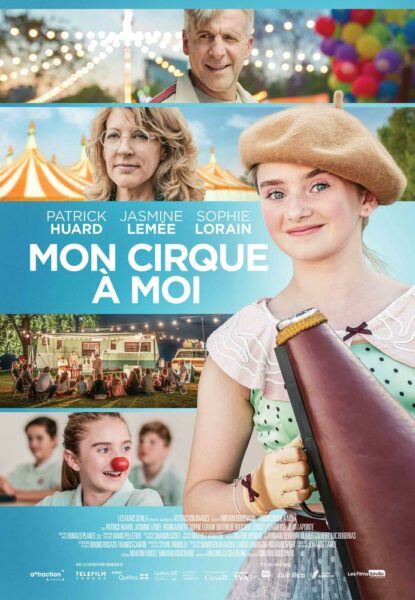 Synopsis
Laura, 13, goes on a tour with her widowed father, a clown by profession. When school starts again, she wishes for a more sedentary life, but her father thinks that she will fare better away from school. What will happen? Inspired by the director's life. 
June 22 at 9:30 PM
Monsieur Lazhar
De Philippe Falardeau 
95 min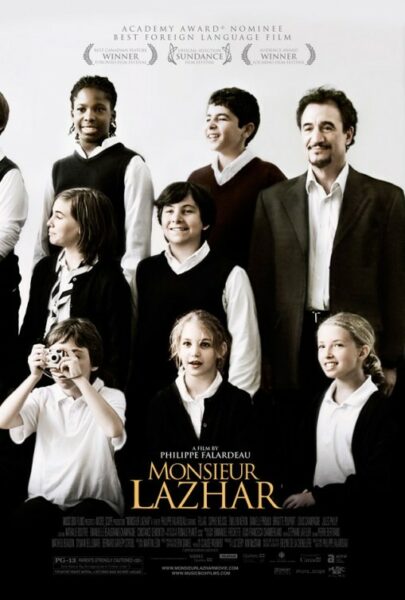 Synopsis
Bachir Lazhar, an Algerian immigrant, is hired to replace a beloved teacher who has tragically passed away. Despite his personal preoccupations and this dramatic change, he will seek to restore the taste for learning, knowledge and acceptance of the course of life to the young children in the sixth grade of a Montreal school.    
June 29 at 9:30 PM
Edmond  
De Alexis Michalik 
113 mn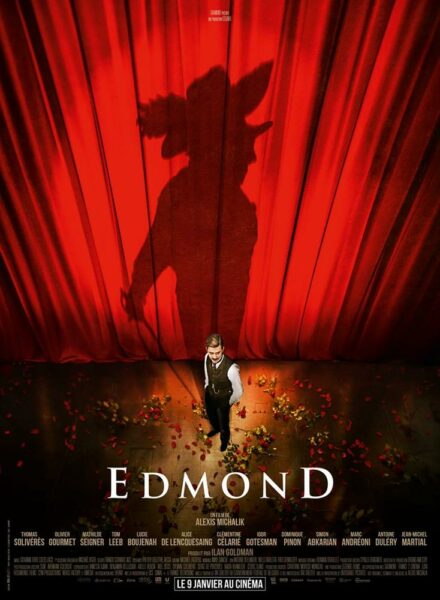 Synopsis
December 1897, Paris. Edmond Rostand is not yet thirty but already two children and a lot of anxieties. He has not written anything for two years. In desperation, he offers the great Constant Coquelin a new play, a heroic comedy, in verse, for the holidays. Only concern: it is not written yet. Ignoring the whims of actresses, the demands of his Corsican producers, the jealousy of his wife, the stories of his best friend's heart and the lack of enthusiasm of all those around him, Edmond starts writing this piece which nobody believes. For now, he has only the title: "Cyrano de Bergerac". 
July 6 at 9:30 PM
French Immersion – c'est la faute à Trudeau
De Kevin Tierney
98 min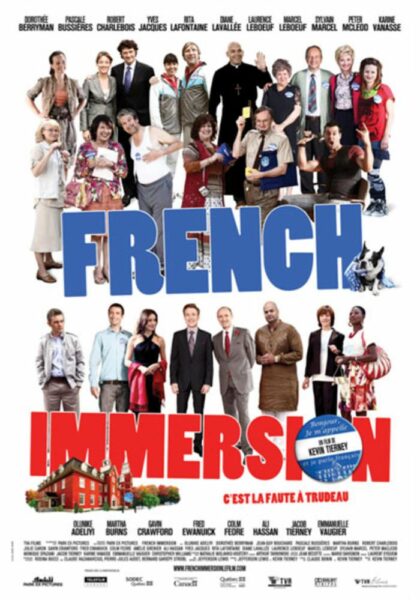 Synopsis
Anglophones from all over come to learn French and the Quebecois way of life in a small village in northern Quebec for a variety of reasons. Many adventures await these surprising characters and the residents who welcome them. What will they learn in two weeks of French immersion? 
July 13 at 9:30 PM
Astérix et Obélix l'empire du milieu
De Guillaume Canet 
120 mn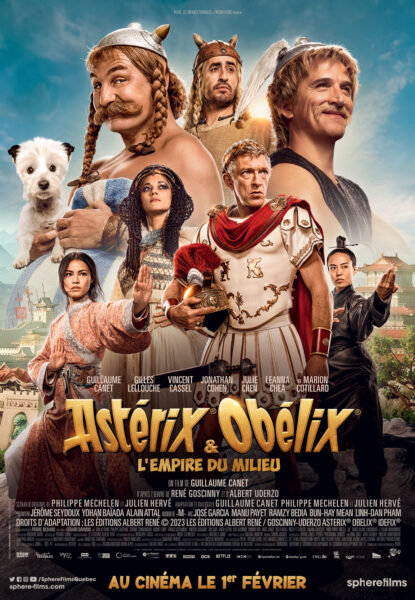 Synopsis
The only daughter of the Chinese emperor Han Xuandi, escapes from a strict prince and seeks help from the Gauls and the two brave warriors Asterix and Obelix. 
July 20 at 9:30 PM
Jeune Juliette
De Anne Émond 
97 mn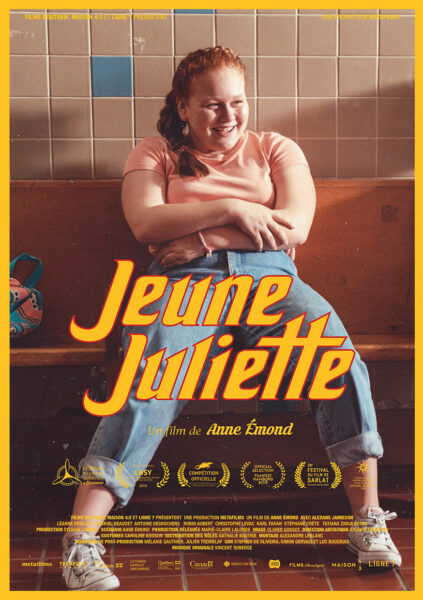 Synopsis
Juliette's hectic last weeks of school, secondary two, before the summer holidays. Cheeky girl, liar, funny, plump and endearing, Juliette will make important learnings about boys, love and friendship. She will come out of it grown (well, at least a little!).
July 27 at 9:30 PM
Envole-moi
De Christophe Barratier 
91 mn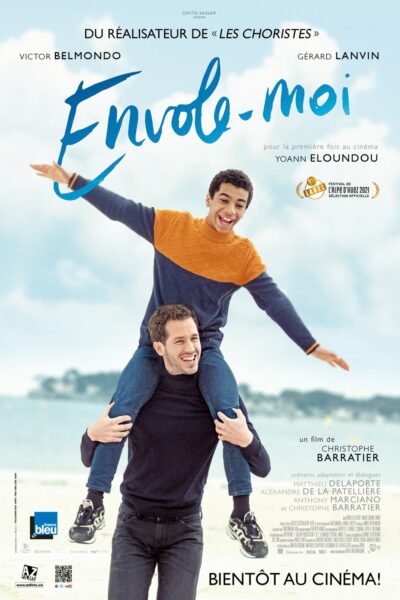 Synopsis
Thomas spends his nights in clubs and his days in bed, until the day when his father, Dr. Reinhard, tired of his antics, decides to cut him off and forces him to take care of one of his young patients. Marcus is twelve years old and lives alone with his mother. Since birth, he has suffered from a serious illness that punctuates his days, between the reception center where he goes to school and repeated stays in hospital. This encounter will upset the daily lives of both of them, and quite simply change their lives. 
August 3 at 9 PM
Le petit Nicolas : qu'est-ce qu'on attend pour être heureux ?
De Amandine Fredon et Benjamin Massoubre 
82 min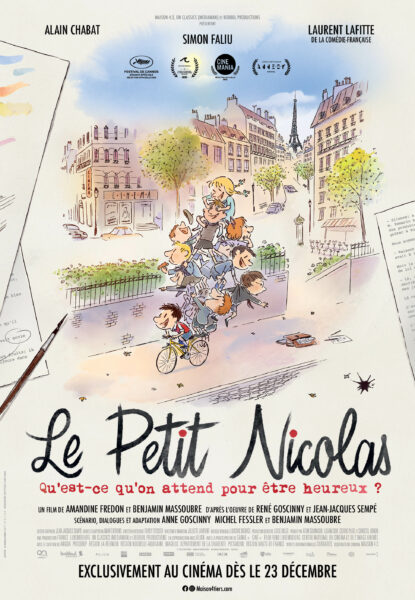 Synopsis
Leaning over a large blank sheet of paper somewhere between Montmartre and Saint-Germain-des-Prés, Jean-Jacques Sempé and René Goscinny give life to a laughing and mischievous little boy, Petit Nicolas. Between camaraderie, arguments, fights, games, nonsense, and punishments in spades, Nicolas lives a childhood made of joys and learning. Throughout the story, the boy slips into the workshop of his creators, and calls them out with funny. Sempé and Goscinny will tell him about their meeting, their friendship, but also their journeys, their secrets and their childhood.
August 10 at 9:30 PM
Un été sans point ni coup sûr

 

De Francis Leclerc 

104 min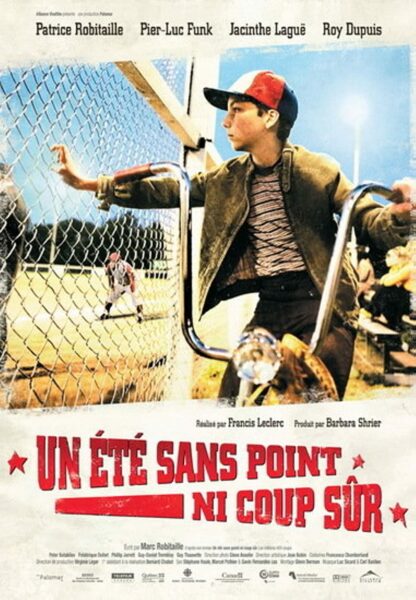 Synopsis
In 1969, the summer of his 12th birthday, Martin Garneau is very disappointed when he is not selected for the A baseball team in his neighbourhood. With his father as coach, Martin and his friends formed an amazing team where learning about life and having fun are always present, despite the obstacles.   
August 24 at 9 PM
Un monstre à Paris
De Bibo Bergeron 
82 mn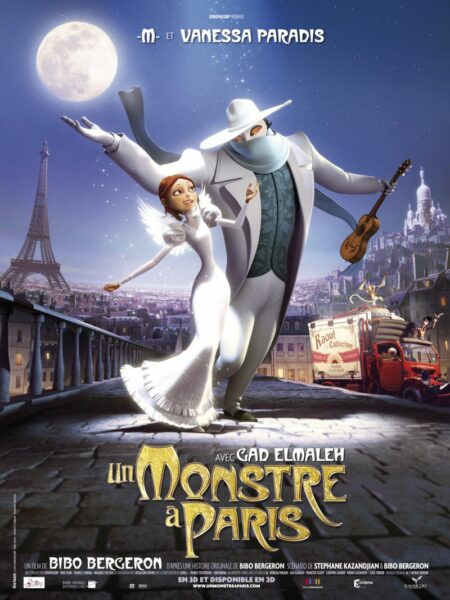 Synopsis 
A 3D-animated movie set in Paris in the year 1910 and centered on a monster who lives in a garden and his love for a beautiful, young singer. 
August 31 at 9 PM
Mia
De Jérémy Guenette 
90 min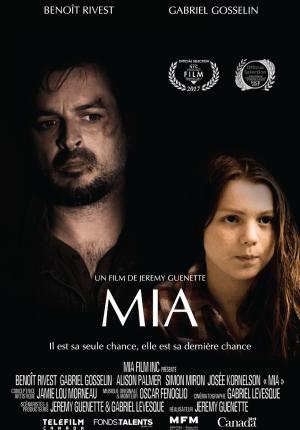 Synopsis
Mia is a Franco-Manitoban production. This thriller tells the story of a detective's return to Manitoba to investigate the disappearance and abduction of a little girl, Mia. He reconnects with old friends and enemies in order to solve this drama that will transform his perception of life.